We get to start off our morning with another day of the 10 Days of Thanksgiving Crochet Event. Today we are focusing on "service". One of the best ways to serve others is through being kindness and through sometimes a simple warm hug <3.
Make sure to click on the image for all 4 $1.00 patterns for today.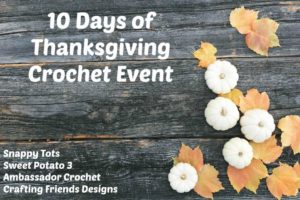 But, that is not all!!!
I recently started a fun and interactive Crochet & Conversation Group on Facebook. This is a group of fellow crochet enthusiasts who want to share their love of the craft. So, please join us today, for those in the group, I will have something fun tomorrow (Wednesday, November 15, 2017). Click the image and click "join".

See you all tomorrow for some more Thanksgiving fun and a little celebration for my birthday!