The
2016 Cancer Challenge
began on October 1, 2016. Each day a crochet pattern designer sponsored the challenge by providing a free pattern in exchange for your pledge to make a hat. The hats made will be donated to your local cancer center and will be gifted to someone going through cancer.
I am excited to say that our numbers continue to increase every year. In 2016, you all helped to pledge 35,474 hats. This is outstanding, thank you from the bottom of my heart. Each one of these hats was made with love and will be given in love. What a great way for us crocheters to touch others lives.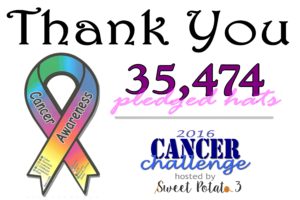 If you haven't completed your pledges, don't fret! You have until the end of 2016 to fulfill your pledges. I am still working on mine but plan on making my donation in time for Thanksgiving.
Come back next year for the Cancer Challenge!
I will be hosting the Cancer Challenge once again in 2017. Make sure to follow Sweet Potato 3 on facebook to stay in the loop. Or, you can follow my blog by email, just sign up under my picture in the right side of this post. Thank you again for your time and efforts in this years challenge. I look forward to seeing you participate again in 2017.