Starting today off with a warning!!! I hope you are all ready for some serious cuteness overload! I am serious, this is one of my favorite designers, especially for the wee little ones.
Newborn Knots joined the challenge last year and was so wonderful to work with. I was thrilled when she jumped on board again this year. And then, I saw the design sneak peak, I couldn't wait to see what she came up with.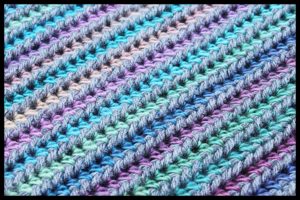 There was no disappointment either, the texture and colors in the Unforgettable Ridges Slouchy is amazing!!! Plus it includes 9 differnt sizes from baby to adult men. The color combinations are endless with this beautiful design. The pattern also includes instructions on making the hat as a slouchy or as a traditional beanie.
Now for the fun part, your pledge! You probably know the drill now, that to get the Unforgettable Ridges Slouchy/Beanie for Free, you must use code "2017CancerChallenge". By using this code, you are pledging to make a minimum of 1 hat from the pattern to be donated to someone going through cancer now or is a survivor. The code is only valid for 48 hours or through Wednesday October 11, 2017.

I do ask that you take a minute of your time to visit Newborn Knots on facebook and tell her Thank You for her support and for sponsoring a day in the Cancer Challenge. This really is a huge part in spreading the love and thanking the designer for their efforts in this drive.
Here are a few of my favorite designs from Amanda at Newborn Knots. If you love them too, be sure to check out her entire collection of patterns on Ravelry:
      Need More Information on the Cancer Challenge
For all the details on the 2017 Cancer Challenge, just click here. You can learn more about why this challenge was started, what yarn to use, where to donate and so much more.