We made it to hump day! Happy Wednesday everyone. I love Wednesday, it feels like the week is about half over, but there are still 2 bonus fun days left! And speaking of fun, you are going to love todays hat design for the Cancer Challenge.
While planning for this years challenge, I reached out to some "big names" in the crochet world. I was beyond thrilled when Jennifer from, A Crocheted Simplicity, said she would love to join. I have admired her designs for years and have the honor to share her latest release of the Pascala Mini Slouch for todays Cancer Challenge.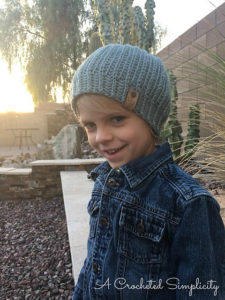 The design of the Pascala Mini Slouch is perfect for Cancer Patients. It is simple but cute and works great for men and women. The pattern comes in sizes from baby up to adult large. Make the Pascala Mini Slouch in worsted weight soft yarn for a warm a cozy feel.
I know the Pascala Mini Slouch pattern will be a huge hit in those donation boxes. To get this fun pattern today, you must pledge to make one for the Cancer Challenge. To pledge a hat, you just need to use the code "2017CancerChallenge" at checkout. You will then receive the pattern for free, but hurry the code will only be valid for 48 hours, or through Thursday, October 19, 2017.
Remember, your download is your pledge.

Please take a minute to visit A Crocheted Simplicity on facebook and let Jennifer know how much you appreciate her sponsoring a day in the Cancer Challenge. It is her generosity that is helping so many others.
A Crocheted Simplicity has so many amazing designs to look through. Here are some of my favorites, but make sure to browse her entire Ravelry shop here.
Need More Information about the Cancer Challenge
For all the details on the 2017 Cancer Challenge, just click here. You can learn more about why this challenge was started, what yarn to use, where to donate and so much more.