Fall is in the air! I love all the cool and chilly evening and the warmth of the sun during the day. It is also a perfect time of year for crocheting hats which is one reason I love this challenge. I cannot wait to make todays hat, I already have some perfect oatmeal yarn with grey fleck in it, oh, I am so excited to start.
For day 26 our featured designer is, Pattern Paradise, The designer behind this lovely hat is Maria, and she is offering the Dana's Dream hat for the Cancer Challenge. Maria designed this hat for her dear friend's daughter who is going through chemo for breast cancer.  What a special hat.
I love how versatile it is: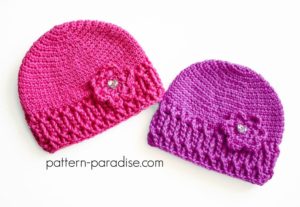 The Dana's Dream hat is fabulous. I love how when you add a flower it looks so feminine. Then add stripes and contrating colors and all of a sudden it is very masculine. I am sure you will love playing with different colors to get differnt looks with this design.
Remember to pledge, just click on this link, enter the code "2017CancerChallenge", and download the pattern.  The download code will only be available for 48 hours and will expire at midnight on October 27, 2017.
Remember: Your download is your PLEDGE for the Cancer Challenge!

Please take a minute to visit Pattern Paradise on facebook and tell Maria Thank You for her support and for sponsoring a day in the Cancer Challenge. This really is a huge part in spreading the love and thanking the designer for their efforts in this drive.
Here are a couple more darling designs by Pattern Paradise, make sure to check them all out on Ravelry here:
Need More Information
For all the details on the 2017 Cancer Challenge, just click here. You can learn more about why this challenge was started, what yarn to use, where to donate and so much more.