A fabulous start to the weekend as Saturday begins! I'll be spending the last Saturday of baseball season at the ball fields, after game awards, Halloween costume prep and then I finally will get some crochet time. My goal is to get 2 more hats done for the cancer challenge this weekend. I hope your pledges are coming along nicely too.
For day 28 of the Cancer Challenge, we have another long time contributor, Sweet Potato Crochet Creations. She designed a brand new hat release for us today and it is so darling. I love the Rosemary Beanie with the darling flowers attached to the side of the hat. Or, leave the flowers off for a masculine look.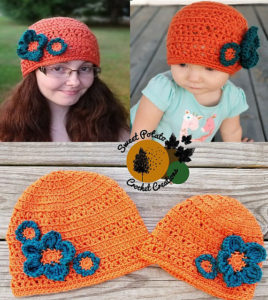 The Rosemary Beanie comes in sizes for: toddler, child and adult. Made in a worsted weight yarn the hat will work up quick and keep you warm. The textured stripes make this hat appeal to the eye and creates a nice design.
Remember to pledge, just click on this link, enter the code "2017CancerChallenge", and download the pattern.  The download code will only be available for 48 hours and will expire at midnight on October 23, 2017.
Remember:
Your download of this pattern is your PLEDGE for the Cancer Challenge!

Please take a minute to visit Sweet Potato Crochet Creations on facebook and say Thank You for her support and for sponsoring a day in the Cancer Challenge. This really is a huge part in spreading the love and thanking the designer for their efforts and generosity in this drive.
Here are a couple more designs by Sweet Potato Creations, make sure to check out more designs in her Ravelry shop: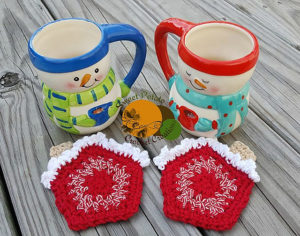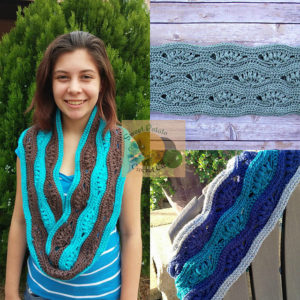 Need More Information on the Cancer Challenge
For all the details on the 2017 Cancer Challenge, just click here. You can learn more about why this challenge was started, what yarn to use, where to donate and so much more.