It's Monday, so let's all put our best foot forward and start the week of right! There is no better way than to work on donations for the Cancer Challenge. I have loved seeing everyones completed hats so far. So, please continue posting them in the event on facebook or on my facebook page. I am confident that todays hat is sure to be a huge hit!
Cancer Challenge Day 9: Snappy Tots
I love having the continued support of so many designers, and Snappy Tots is always there to help out. Heidi is so generous with so many different charities and drives to help others. Snappy Tots jumped on board to join this years challenge once again and you are going to love her design.
The Orchard Lane Beanie has a beautiful and bold texture that brings this hat to life. I love it in the solid colors, it makes the character in the hat design really "pop". The Orchard Lane Beanie will work for men and women and is amazing with or without the pom! This design is sure to be a hit in those donation boxes!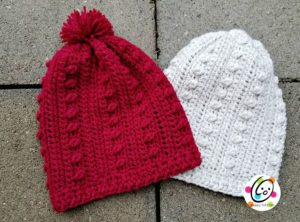 To get this fun pattern today, you must pledge to make one hat from the pattern for the Cancer Challenge. To make a pledge you just need to use the code "2017CancerChallenge" at checkout.  Snappy Tots  is offering the code for 48 hours or throught Tuesday October 10, 2017 at midnight.
Rember,
your download is your pledge

.

Please take a minute to visit Snappy Tots on facebook and let Heidi know how much you appreciate her sponsoring a day in the Cancer Challenge. It is her generosity that helps so many others.
Snappy Tots is such a fun shop to look through, Heidi loves color and it shows as you look through her many designs. Here are some of my favorite designs that she has completed so far. You can take a peak into her entire Ravelry shop here.
Need More Information
For all the details on the 2017 Cancer Challenge, just click here. You can learn more about why this challenge was started, what yarn to use, where to donate and so much more.