Are you ready for the Holiday Madness?
Well, I will jump on board and offer you all a sale this weekend. I am keeping it short and simple. The sale will be the same all weekend and you can use it as many times as you'd like. No minimum purchase necessary.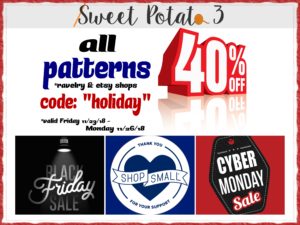 Ravelry Shop: HERE
Etsy Shop: HERE
Use code "
holiday

" to get 40% off your entire order.

I'd love to have you join me in my Crochet and Conversations group on facebook for more interactive fun. We will be chatting up about our holiday crafts all December long.