Lucky Day 13 of the 2016 Cancer Challenge is here. Who is going to be the lucky one and get the amazing hat you make?
Today's featured hat is designed by Sonya, owner of Blackstone Designs. Her Color Block hat is a versatile hat with it's colorful stripes. Make it simple and solid, make it with a simple 2 tone color striping, or a vibrant rainbow of color. Any way you make it the Color Block Hat is going to be amazing. The hat comes in sizing from newborn up to adult and is great for the guys or the gals.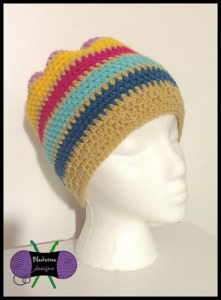 Today you can grab the Color Block Hat pattern as part of the Cancer Challenge. Just make sure to enter code "challenge16" at checkout to take advantage of the FREE offer from Blackstone Designs. This offer is only good until midnight on October 13, 2016. Please make a point to visit Blackstone Designs on facebook and tell her thank you for her generosity in the Cancer Challenge.
It is so easy, just enter your email (under my picture to the right). Make sure you confirm your subscription in the email you will receive. You will then receive daily emails with all the designers who are donating a pattern through the month of October. These patterns will help you complete your challenge in making hats for cancer patients. October is a great time of year to reach out and help warm hearts of those who need it the most.