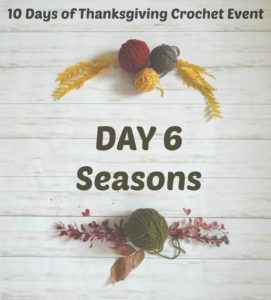 We are so Thankful of all the Seasons! It is so hard to decide which one is our favorite. Is it the fresh rain and flowers and Spring? The warmth and excitement of Summer? The changing leaves and pumpkin spice of Fall? Or the fresh snow, holidays and Hot Cocoa of Winter?
As much as I love all the season, I think I have to pick Winter right now. Maybe that is because we are currently anticipating it. But, I cannot help but think of the joy in my children's faces as the first snow falls, when we first get to run out and build a snowman, sledding with the neighbors or skiing some slopes as a family. We LOVE Snow!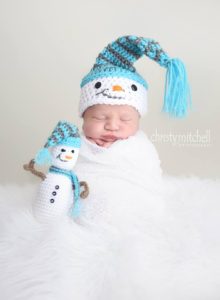 So, in honor of Winter and what I consider the season of Snow, I am featuring my Snowman Set! Yep, the entire set is only $1.00 today. You will get the hat (which comes in sizes from newborn up to child) and the small little snowman lovey. Isn't this just darling?
As part of the 10 Days of Thanksgiving Crochet Event you can grab the Snowman Set for only $1.00 through midnight tonight (11/17/18), but you have to use the code: 6Seasons
Grab the Snowman Set Pattern: HERE
And from 3 MORE designers!
Since I am doing the 10 Days of Thanksgiving Crochet Event with 3 other designers you can also get their patterns for only $1.00 as well with the same code: 6Seasons
Grab all 4 with this quick link: HERE.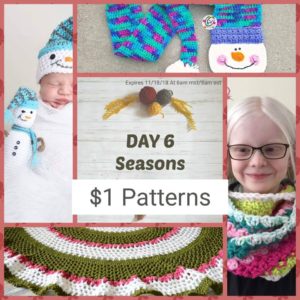 Or keep scrolling to see the other featured patterns by Crafting Friends, Ambassador Crochet & Snappy Tots.
Unicorn Tracks Infinity Scarf by Ambassador Crochet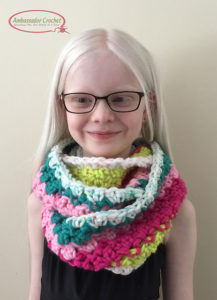 Long Tail Frosty Scarf by Snappy Tots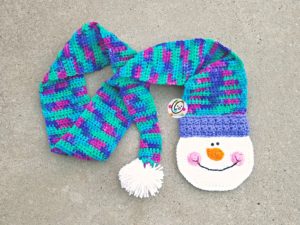 Summer Trellis Round Afghan by Crafting Friends Design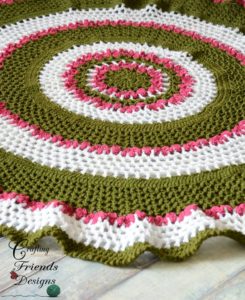 Make sure to check back each day for the next 8 days to see the rest of our 10 Days of Thanksgiving Crochet Event!