Flower Petals and all things girly is what comes to mind in my latest baby blanket design. The Flower Petal crochet blanket is a beautiful work of art that features many different textures and designs when you see and feel this blanket.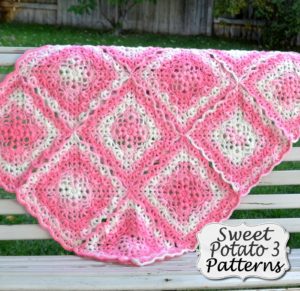 The Flower Petal Blanket is made of square motifs that are stitched together in their last round. This makes the blanket take shape as you go and you will be delighted that you do not have to spend the time stitching them together when you are done.
You can make the blanket in different sizes by adjusting how many motifs you make. The 3X3 blanket is great for car seats and strollers. While the 3X4 blanket is a traditional size for gifts and general use.
Grab you copy of this amazing pattern today on:
Here is a beautiful blanket made with a 3X3 motif. This blanket was crocheted by Michelle, owner of
Magic Mommy'sYarning.