We all need quick projects for gifts all year long. But, especially for Christmas and this is the time of year we need to start those homemade gifts. I had so much fun designing these for the Christmas in July CAL with Stitches n Scraps and Underground Crafter.  If you haven't been following you must! So many fun and free patterns and I get to contribute my new Comfy Houndstooth Slipper pattern! 
The Comfy Houndstooth Slippers are a quick project and can be made in so many fun color combinations. They work up quick and are made in a beautiful Houndstooth stitch that is very easy to crochet. Add a pair of these to a gift package of foot soaks and lotions and you have the spa package anyone would love.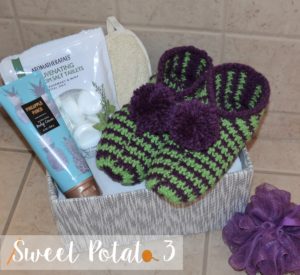 You can grab the Comfy Houndstooth Slippers on Ravelry by clicking HERE.
Designed specifically for the Christmas in July CAL mentioned above. Make a point to follow along and submit photos of your final projects for chances to win fun prizes. You can find out more details in my earlier blog post, click HERE, to be redirected.