Pocket Pillows, what are they? The new Pocket Pillow pattern is so much fun! It puts a spin on an ordinary household item and changes it into a fun way to decorate or even give gifts.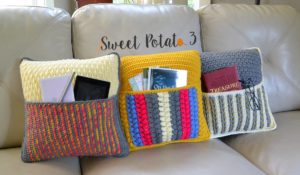 The new Pocket Pillow Pattern is written so you can design your own. Begin by selecting one of the 3 textured stitch designs that will cover the entire pillow.
The pillow covers are beautiful all by themselves. But, we have to add MORE texture and make the pillows fun and useful. Now comes the hard part, pick one of the 3 textured stitches to make your pillow.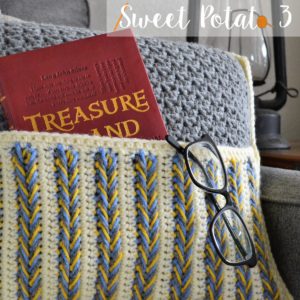 Grab the Pocket Pillow Pattern on Ravelry HERE.
Grab the Pocket Pillow Pattern on Etsy HERE.
The pattern includes written instructions, photo tutorials and YouTube tutorials for some of the stitches (I hear all you visual learners out there 😉 )!
The Pocket Pillows can also be used as a fun and unique way to give a gift. Add a book to a pillow and give to a teacher, a graduate, a bookworm, the possibilities are endless.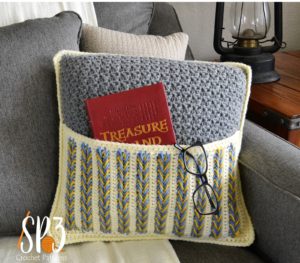 They can also make great gifts to those who like to travel, just add your brochures, maps and travel guides. The pocket pillows will also dub as a touch of home in the RV or backseat of your car!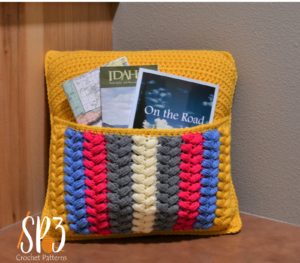 The Pocket Pillows work great to hold other items too. My daughter uses hers to hold her kindle, she also likes to keep a notepad and pen with it so she can take notes. I love that the pocket pillows can appeal to ALL ages!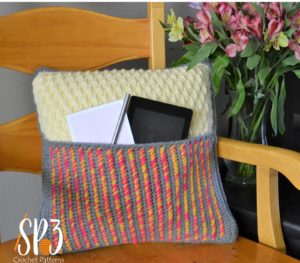 I hope you love the design of the Pocket Pillows by Sweet Potato 3. Join my facebook group SP3 Crochet & Conversations and share your finished project, we love seeing them and love support one another in our love of crochet.