We just wrapped up month long CAL and am now ready to share the Sleep Tight Teddy Bear Pattern with all of you! This baby blanket is full of rich texture, new stitches and some cute cuddly teddy bears. The blanket is so fun to make, but I had to give you some options so adjusted the pattern to include a lovey sized blanket and a coordinating stuffed bear to make it the ultimate Gift Set.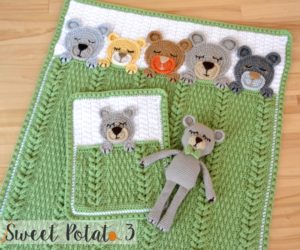 As always, you can pick and choose your favorites or buy all 3 patterns at a package price.  Grab the Baby Blanket for $6 or just the Lovey for $6, or just the Teddy Bear Stuffy for $4.00. Or grab the entire Sleep Tight Teddy Bear Set discounted price of $10.00.
The Blanket and Lovey can be made is so many fun color combinations. To see more check out the album from the CAL on facebook.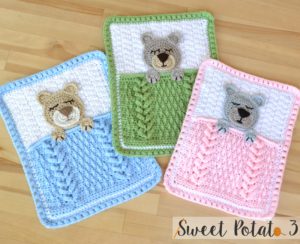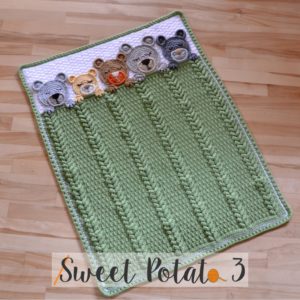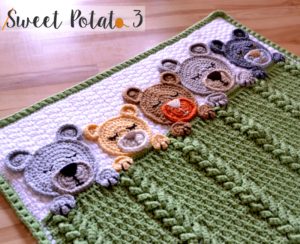 Make a coordinating snuggly teddy bear.
I know these little sleepy teddy bears are too cute, but you have to add a snugly friend to go with them. The Sleep Tight Teddy Bear is a perfect size, completed it measures about 13″ tall.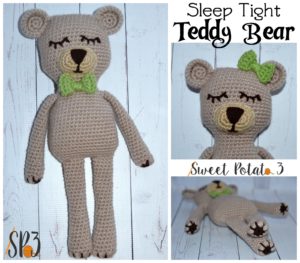 Video Tutorial for Texture Braided V Stitch
To help you out with the beautiful texture that makes this blanket so rich, I created a tutorial:
I hope you all love the Sleep Tight Teddy Bear Set as much as I do. If you make one of the pieces please share it with me on facebook so I can give it some love!