Have you ever wondered about how some people crochet these amazing Tapestry Crochet pieces? It is a unique artwork using the craft we all love.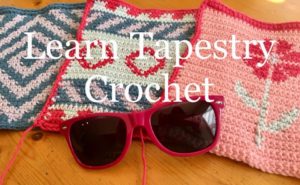 Learn Tapestry Crochet in a CAL Environment!
Come join me, starting Tuesday, May 1, 2018 for a fun, event where you can learn how to Tapestry crochet. All you need is some scrap yarn, a crochet hook G (4 mm) and some time. The CAL will last about 2 weeks and I will work with you by hosting LIVE facebook sessions. You will be able to ask questions and have them answered during the event.
I will discuss tips and suggest strategies for planning your tapestry crochet project. You will be given 3 different patterns to work from that will allow you to practice your new skills. Then, you can turn these sample projects into fun sunglass cases!
The cost to join the event is completely FREE!
Just join my SP3 Crochet and Conversations group on facebook, HERE. Click on the event tab and join the Learn Tapestry Crochet event. If you join a little late, no worries, the LIVE videos will be available for replay. I hope to see you in the group!