I am so excited for the new Woven Shells Hat & Cowl Crochet Pattern. This was inspired by Jennifer in my Crochet & Conversation Group. Which by the way, if you are not a part of, you better come join us by clicking, HERE. Last week I asked what stitches folks would like to see in a pattern. Jennifer posted the Woven Shells Stitch and I already had the cowl so decided to make a set and add a beautiful hat to go with it!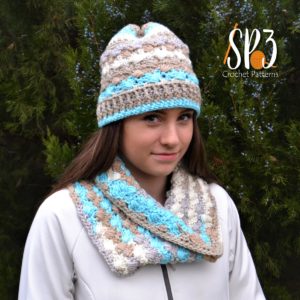 Woven Shells Hat & Cowl Release SALE!
Grab the entire set for 30% off through Friday December 1, 2017. No code is needed and is valid in Raverly shop only.
I love how the design shows off the beauty of the textured stitches. It really does create a woven look and is nice and warm. You can buy the Woven Shells Hat & Cowl Set on:
Ravelry: HERE
Etsy: HERE
Interested in one of the patterns, I've got that for you as well!
The Woven Shells Hat pattern comes in sizes for Child, Teen/Ladies, and Adult/Men. You can make it in a beautiful striping yarn, a solid color, or add a couple colors for some design pop. Then just decide on if you like it with or without a pom… so many decisions you may just have to make more than one.
Grab the Woven Shells Hat pattern on Ravelry, HERE.
The Woven Shells Cowl comes in a one size fits most and can be found on Ravelry, HERE.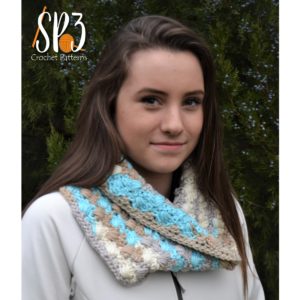 Make sure to follow my blog for all new pattern releases, sales and crochet fun!