October is almost here, you know what that means!
It is Cancer Awareness Month, and the 2016 Cancer Challenge is just around the corner!
This may be a long post, but it should answer most of your questions and  give you more detailed information on how it is organized.
Why are you doing the challenge?
Many / Most of us have been effected by cancer in some way. It is difficult to see someone go through cancer and/or chemotherapy. But with a community standing beside you it makes the battle slightly less daunting and scary.
In honor of my Uncle Jeff, who lost his battle in September of 2014,
I am hosting the 3rd annual Cancer Charity Challenge.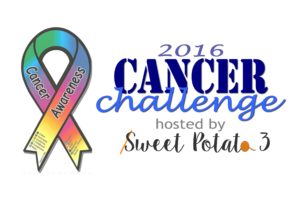 How does the challenge work?
It is pretty simple.
Basically, I am asking all of you to help make hats for cancer patients and cancer survivors.
The hats can be made for someone you know, someone your friends know,
a co-worker, teacher, neighbor, or even a complete stranger.
You can make many hats and donate them to your local cancer center.
If a cancer center is not in your area you can contact me and ship them my way. I will include them with my donation to the Cancer Center of Idaho.
How long does the challenge last?
The challenge will begin October 1.
A featured designer/pattern will be posted each day through the month of October.
You have through the end of 2016 to complete your hats and get them donated.
What type of hat should I make and what sizes?
You can use any hat pattern you like. People of all ages get cancer, so all sizes are needed. Teen and adult hats are most requested because they tend to fit more people.
Where can I get patterns?
This is the FUN part!!!
Each day throughout the challenge I will be posting a FREE hat pattern.
I have some amazing designers who are graciously offering their patterns for FREE in exchange for your donation. If you download a pattern you are pledging to make a minimum of 1 hat from that pattern for the challenge. If you download the pattern, please take a minute to visit the pattern designers facebook page and tell them thank you for their generosity.
 What type of yarn is recommended?
 The best yarns for chemo patients are soft and breathable yarns. It is also important that the yarn washes well. It is recommended to use cottonn blends (however, 100% cotton tends to be less soft) and/or acrylic. One of the favorites is Caron Simply Soft, Debra Norvelle, Lionbrand Homespun and/or Heartland, Red Heart Soft, Bernat Softee, you are probably getting the idea.
I have heard comments that wool hats can be very itchy and are not preferred.
Remember that it is important to use the correct yarn weight for the pattern you are following.
 What is my goal?
My goal is to simply help others and make it easy for you to do the same.
I started this challenge on a whim 2 years ago when I lost my uncle. Each year is improved and the numbers continue to grow. Last year over 33,000 hats were pledged. I am astounded with that succes and am hoping to match and beat  that number this year. So grab a friend and crochet away!
How do I pledge?
To pledge to make a hat simply download the pattern.
There will be 31 patterns available. If you download all 31 patterns you pledge to make 31 hats.
I am pledging to make 31 hats, one a day, sounds doable. But, if you can only make 1 hat, you are still making a difference, and I thank you for that.
Have Fun and Get More Involved
Make sure to share pictures of your finished hats of on our
facebook page
. This is not required, but it is fun to see what everyone else is making and see your own pictures shared too. When you share a picture please let me know what pattern it is from, I would love to tag that designer so they can follow the difference they are making.
Who are you Honoring?
Add a comment to this blog post to let everyone know who you are making hats in honor of.
Challenge Others
Do you know other crafters, crocheters or knitters?
Tag them in one of the
facebook
posts about the challenge, say "I challenge you to join!"
Get Started Early
The excitement and enthusiasm I see in everyone who has participated in the past is amazing. I have even had a few of you tell me that you already started. Last year someone post a hat they crocheted that had a beautiful cancer ribbon on it. She graciously shared the link that she used and the bonus is, it's FREE. Click
here to make a ribbon like the one below
. These are great to add to your hats.
For your convenience I have included a chart that shows the colors that are used for some of the more common cancer awareness ribbons.